Law Enforcers to Investigate FGM Cases in East Georgia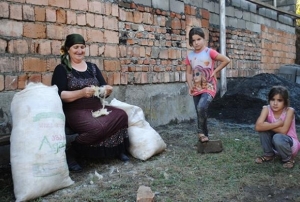 TBILISI – Georgia's State Minister of Reconciliation and Civil Equality, Ketevan Tsikhelashvili says that law enforcement agencies will arrive at Avar villages of Kakheti Region, East Georgia to check the released information that local women there are being forced to undergo female genital mutilation (FGM).
"This issue is very important for us and if such cases are confirmed, we will do our best to eliminate this practice," stressed the Minister.
The information about the existence of FGM in some Kakheti villages, which are populated by the ethnic Avar community, was released by the Institute for War and Peace Reporting (IWPR) around a week ago.
The author of the article, Aida Mirmaksumova reports that hundreds of Avar girls still undergo FGM at present, adding that the local authorities say they were unaware that minority group was carrying out the procedure.
Avars are a native ethnic group in the Caucasus that was historically located in the mountainous part of the Russian Republic of Dagestan. As a result of trade relations with the neighboring Georgian district of Kvareli, Georgia, in the 18th century some Avars settled there and around 3,000 of their descendants still live in three Kakhetian villages today.
"Although isolated from their homeland and living in a remote area of Georgia, the Avars have staunchly preserved their own culture and traditions, including the Avar language, their cuisine, wedding and funeral rites and religious customs. As a rule, Avars marry only within their own community," the IWPR article reads, adding that when boys are circumcised, they are taken to the district hospital where a surgeon will operate on them. However, for girls, the procedure is done at home.
The article says this practice is dangerous and represents a gross violation of human rights.
After the article was published, Georgia's public defender, Ucha Nanuashvili also said he would carefully study the case.
The representatives of Ombudsman arrived at the mentioned villages and found out that such practice really exists among Avars.
"The locals confirmed to our representatives that such practice is carried out there and it is called "baptism." According to them this procedure implies cutting or partly removal of clitoris at home," the statement of the Public Defender reads, adding that such practice is wide-spread in one Kakhetian village and in other two only some cases have been confirmed.
The Ombudsman says the population is not aware of the complexity, risks and complications of FGM and it is mainly associated with religious beliefs.
In 2014, Georgia signed the Convention of the Council of Europe on Violence against women and domestic violence prevention, where the separate article is devoted to FGM, implementation, inciting and coerce of which is to be criminalized. Unfortunately, the document has not been ratified yet.
The Public Defender called on the Georgian government to ratify the convention and take all appropriate measures for elimination and prevention of this bad practice.
By Thea Morrison
15 November 2016 12:29