Ici Paris Offers New Fragrances of Zadig & Voltaire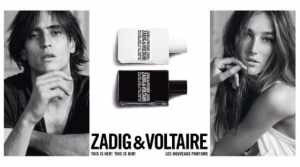 Ici Paris has introduced new fragrances by Zadig & Voltaire from France - THIS IS HIM and THIS IS HER. These fragrances were created in 2009 and were updated in 2016.
The new fragrances express an attitude of restlessness, rebelliousness and freedom. THIS IS HIM and THIS IS HER were created with perfume maker Beauté Prestige International, with elegant notes of sandalwood (Zadig & Voltaire's signature) in both fragrances, the fragrances represent how to be yourself.
"I can't image life without fragrance. I like when it leaves behind a trail, asserts a personality. It's an alchemy between you and someone else," said Zadig & Voltaire founder Thierry Gillier.
THIS IS HER! is a woody, heady floral scent created by Sidonie Lancesseur and Michel Almairac. With notes of chestnut cream and benzoin resin adding warmth, and the Arabian jasmine, brightened with pink peppercorn, makes the fragrance both woody and floral.
THIS IS HIM! is also woody, but has a more oriental element, with spicy incense, grapefruit and black pepper. Made by Nathalie Lorson and Aurélien Guichard, the fragrance is for the leather-hard spirit. It is half-incense, half-vanilla. Both soft and strong, these fragrances are for the confident, unfettered modern hero.
The design of the two bottles reflects a revolution of love. Harmonious in nature, the black and white contrasting bottles are a visual representation of the essence of the fragrances.
Ici Paris marketing and PR Department Head Khatia Shamugia said at the launch that the customers can buy the new perfume in all Ici Paris branches. According to her, the fragrances are available as a 30, 50 and 100 ml Eau de Parfum and the prices vary from Gel 140 to Gel 250.
"Zadig & Voltaire is a French brand, which has not so far been represented in Georgia. From now the perfumes will be available only in one perfumery chain in Georgia - Ici Paris," Shamugia said.
10 March 2017 15:45