10 Arrested After Protests at Georgian Railway Headquarters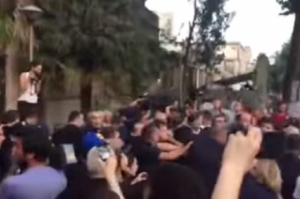 10 people were arrested after protests escalated at the Georgian Railway headquarters yesterday. A number of protest participants attempted to enter the building foyer. Two of the protesters were taken to hospital. Members of Auditorium 115 are also among the people arrested, who came to the protest to express their solidarity with the railway workers, according to Georgian media reports.
The railway workers started a hunger strike on August 15, claiming that they have been transferred from Kakheti to Sadakhlo line without additional salary or accommodation being given, which, as they say, left them without any income. The railway workers demand to be returned back to their previous work place in Kakheti. 14 people are still on hunger strike at the Georgian railway headquarters, they also demand that the Head of the public relations department and head of infrastructure department at Georgian Railway to resign.
Georgian Railway management has asked employees on hunger strike to engage in open dialogue, and discuss the problems constructively.
Photo Source: Imedi news
By Nino Gugunishvili
25 August 2017 13:44