Land Deeds Follow the Money
BLOG
While some residents protested the construction of a new electricity power line through the bucolic Sno Valley located just inside Georgia's border with Russia, others maneuvered to register land plots in locations where they would have a better chance of compensation. The Georgia Public Registry does nothing to stop this practice, and at least one local official profits from it.
Local residents claim that lots located in the area of the power line project have been registered by people who don't actually own them. Some of these have already received compensation from the government. The compensation is being paid because the power lines will make it unsafe to use the land.
In 2015, the Ministry of Energy announced plans to build a power line in Sno Valley. Since then, about 200 land plots have been registered in four villages: Achkhoti, Sno, Karkucha and Akhaltsikhe, all located near the electricity transmission line.
The Kazbegi Interconnection Project is a 500-kilovolt Ksani-Stepantsminda electricity transmission line being constructed as part of a regional electrification project. The nearly 100 km project is scheduled to be completed this November by government-owned Energotrans Ltd., the Georgian State Electrosystem, and Finnish-based company ELEL-EMC.
The German Reconstruction Bank signed a contract on June 17, 2015, with a project cost of EUR 21.6 million plus VAT (18% in Georgia).
The state electricity system has signed agreements on 27 land plots in Sno village and two in Karkucha village. The owners give up the land, temporarily or permanently, in exchange for compensation. About EUR 3.08 million was allocated for land compensation, aid to financially vulnerable families, and administrative expenses.
Due to undefined boundaries in the old documents of land ownership, locals began registering new documents that did not list where their land was actually located, but instead where compensation would be paid.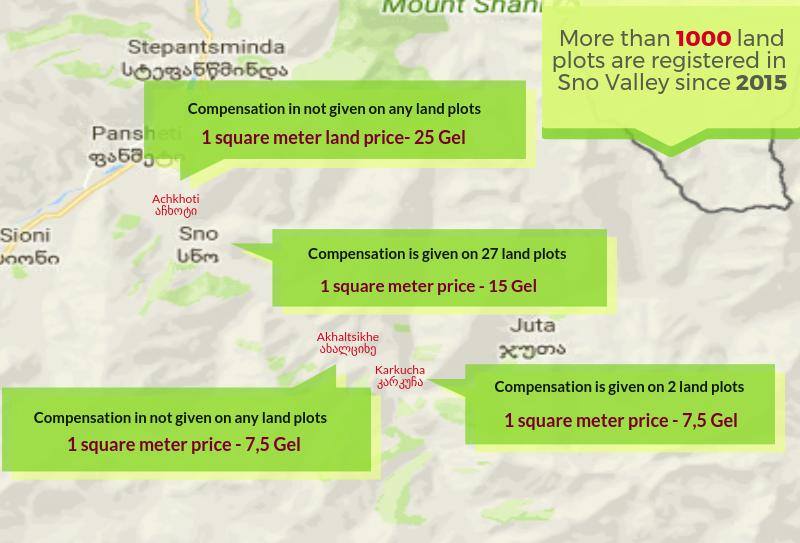 Every landowner in Sno valley has a document proving ownership. Georgians call these 1990s documents "Shevardnadze passports" because they were issued during the post-Soviet presidency of Eduard Shevardnadze. The two-page documents contain a cadastral code for the land plot, a map, and the identity of the owner.
If the National Agency of Public Registry decides a land document in Sno is incomplete or incorrect, it asks the Kazbegi municipal government to send a representative to check the site. The Sno valley representative, local resident Elberdi Papiashvili, says he sometimes checks 20-30 land plots a day.
Papiashvili compares the land with documents presented by the applicant and then writes a report on whether the documents match. He admits that in more than half the cases, he is unable to confirm ownership, and so relies on neighbors as witnesses, even though they are usually close relatives of the applicant.
"When I write that I cannot confirm the accuracy of the survey map against the land document, why does the Public Registry still register the land?" Papiashvili asks.
Vakhtang Bokhashvili, Head of Administrative Operation in the Legal Department of the National Agency of Public Registry, explains that if the Registry cannot find anything suspicious, it should register the land. Suspicious circumstances include land plots that seemingly overlap or that include land set aside for national parks.
"The registrar does not have the right not to register the land. They are obliged by law to trust citizens applying for ownership," Bokhashvili told iFact reporters. "In 2013-2014, when documents did not prove ownership for a particular person, the registrar wouldn't register the plot. Citizens then started a lawsuit against the Public Registry. At the trial, witnesses confirmed the applicant's ownership of the land, and such cases were won by citizens. How many disputes could we lose?"
According to Bokhashvili, this situation was created because of land registration mistakes in the 1990s. "At the time, the exact location of land plots was not indicated in the documents. Now the government has no other choice but to trust the owner," Bokhashvili says.
The real location of land plots
IFact reporters were able to determine the true location of several recently registered land plots. Previous cadastral codes for plots are also listed on the website of the National Agency of Public Registry. Using these old codes, we went to the Kazbegi municipal offices and found out who owned land bordering these lots. The reporters then went to Sno village and asked residents to show the land they owned.
We found that one 28-year-old had changed the location of his 900 square meters when he registered it, and, as a result, received compensation of EUR 4,315.
According to his old land document card, his land was located on territory that locals call Padinebi. A female neighbor's land was supposedly adjacent and she vouched for his ownership.
But now this same registration number is on a land plot three kilometers away in the area where the electricity transmission line is due to pass.
It cannot be confirmed by the documents whether the young man or his ancestors really owned the original land plot. Archive records from 2002 show that his father owned a 20 square meter house, but information about the land plot is not specified.
Other families also changed the location of their lands. Another male resident is also known to be trying to change his land, but part of his new plot appears to be inside the Kazbegi National Park. We met one woman who had successfully changed the location of her land and moved it into the project compensation area.
We asked the public registry lawyer Bokhashvili why his department could not find the real location of the land plots as the reporters had, to which he replied that after all the plots were studied individually, he would be able to give an answer.
Who received the most money in Sno Valley?
The 28-year-old, along with his brother, received more than EUR 50,000 as compensation for six land plots. According to archival records, their family owned 2,400 square meters in 1987-1989. Today, their registered land exceeds 12,000 square meters.
The man claims he has registered only those lands which were fenced in by his grandfather for agriculture. But at least one of his lots is neither fenced nor used for agriculture purposes, instead, his village uses it as a dump.
He sees no problem in moving cadastral codes. "Say I have 10,000 square meters in Sno and I'm using it for hay, and I'm going to register this land. I also have another 1,000 square meters somewhere else. If I add this second land to the first in order to register them together and get more compensation, why is it a problem? Either way, it's mine," he said.
Such "land movement" creates conflict between neighbors. The residents in Akhaltsikhe village used land along the Snostskhali River for pasture. This land is now the private property of a local notary, who is supposed to confirm that land documents are accurate. This notary herself now owns 4,600 square meters in the valley.
Village residents are now filing lawsuits to claim back their lands from other residents. One trial is scheduled to begin in Mtskheta Court on September 20, while another court case is ongoing between one lady and her neighbors in Sno over a land plot eligible for compensation. She recently tried to register the plot, but several neighbors had already registered different pieces of it.
"I had a (professional) survey map made. I brought it to the public registry, but because of the (claims by neighbors), the registration process was stopped," she says.
Those neighbors received more than EUR 8,500 altogether as compensation for these land plots.
Some families are divided by those who managed to register land and get compensation, and those who oppose them. The opponents say they will not give up their own land claims, and vow they will stop construction of the transmission line.
The two brothers who are now EUR 50,000 richer have some advice for those who want to stop the power line. "People should take the compensation," he said. "Otherwise, they will get nothing and the line will still be built".
Ifact.ge
11 September 2017 18:03