Georgian Wine Museum Opens in China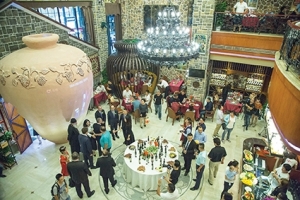 A Georgian Wine Museum named 'Window of Georgia' has been opened in Shangri-La Hotel in the city of Yiwu in central Zhejiang province, China.
Georgia's Agriculture Ministry reports that the museum was opened by Minister Levan Davitashvili on September 21.
The minister said at the opening ceremony that strengthening friendly and business relations between Georgia and China is essential.
He also spoke about the importance of deepening trade-economic relations between the two countries.
"We welcome the demand for Georgian wine in China and we hope that trade-economic relations will become even more active," he stated.
The Georgian Wine Museum is a joint project of the Suoluni Company's Director General Y Shiao Juni and Singuan Group. Shiao Juni has been operating a chain of Georgian wine houses in China for two years.
The Director of Suoluni Company explained that he decided to open the Georgian Wine Museum due to the uniqueness of Georgian wine. He also plans to open other Georgian wine museums in other big cities of China - Shanghai and Beijing. "I am confident that Georgian wine has great potential for establishing itself on the Chinese market," he said.
The museum displays materials depicting Georgian winemaking culture and history and various types of Georgian wine. It also features a huge Qvevri, a UNESCO-listed vessel in which Georgians traditionally make wine.
Georgia's National Wine Agency says that China is the strategic export market for Georgian wines. In the first eight months of 2017, over five million bottles of wine were exported to China, 51% more than in the same period in 2016.
Georgia and China finalized free trade negotiations by signing an agreement on May 13 in Beijing, China, which means that the world's largest market, which unites approximately 1.4 billion customers, will be opened to the goods and services of Georgia. As per the rules of the agreement, 94% of Georgian goods imported to China will be free from import taxes.
Thea Morrison
25 September 2017 18:22