Interior Minister Visits Injured Border Guards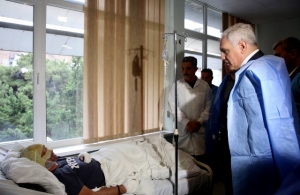 Georgia's Minister of Internal Affairs Giorgi Mghebrishvili visited the wounded border guards, who were injured during September 25 explosion at Georgia-Dagestan border.
The minister arrived in the Burn Center of Tbilisi, where the injured border guards are undergoing medical treatment.
One Georgian border guard died and three were seriously injured due to the explosion of a gas container at Georgia-Dagestan border late on Monday. Two of the injured were hospitalized to Tbilisi, in Burn Center and one was taken to Kvareli hospital, Kakheti.
The Ministry of Internal Affairs (MIA) of Georgia has released a statement regarding the incident, saying one border guard, Senior Lieutenant Lasha Chubinidze, died in the incident.
"On September 25 of the current year an explosion took place at Border Police Department N5 Section in Lagodekhi, Kakheti," MIA stated.
An investigation has been launched under Article 124 of the Criminal Code of Georgia, which pertains to negligence that caused damage to health.
By Thea Morrison
28 September 2017 06:31