Georgian Wine Festival 2017 – An Event You Can't Miss!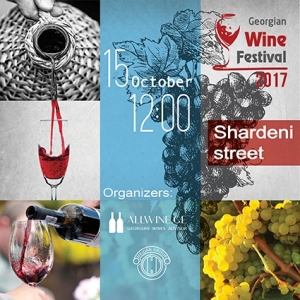 The Georgian Wine Festival 2017 on October 15 will be packed full of activities: learn about the history of wine through tasting and check out the modern technologies of the industry. Publishing house Palitra L will present various books about wine and the VR House company will guide you through Georgian winemaking with virtual reality glasses. And this year's novelty: a wine fountain, something never before seen in Georgia!
The 2017 festival has been joined by Art Shock Company, a team composed of pantomime and drama actors, while folk ensembles Herios Quartet and Sameba will entertain guests in equal measure.
Children have not been forgotten and will have trained employees of Biblus Gallery keeping their hands and minds busy while you enjoy the wine!
For shopping lovers, and for those who are already getting started on their Christmas lists, there'll be Georgian handmade accessories and crafts corners at the Festival.
The Georgian Wine Festival 2017 will be held on Chardin Square and is organized by online wine store allwine.ge and the Maidan Group. At the event, which will be open to guests from 12PM to 7PM, small, medium and large producers will present their wines and will compete to get the title of Best Winemaker. 40 types of wine tasting and exhibition-sales are planned. What's more, unique makes of cheese, the best churchkhelas and dry fruits, honey, and Georgian bread will be on display to taste and buy.
Allwine.ge is launching another big project in the framework of the festival, which aims at promoting Georgian wine. "10 Wines You Must Taste in Your Lifetime!" will see 40 participants presenting one white and one red wine for a public vote on the basis of blind tasting. Voting will be run online at the second stage and a team of qualified sommeliers will reveal the 10 best wines as chosen by customers.
The General Sponsor of the Georgian Wine Festival 2017 is Halyk Bank Georgia. Partners of the event are: the Sommelier Association of Georgia and National Tourism Awards "Welcome to Georgia".
WHERE: Shardeni Str., Tbilisi
09 October 2017 16:10