Legal Drawbacks: Presentation of Report on Single Parents in Georgia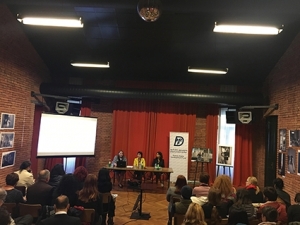 24/10- UPDATED REGARDING TAX PAYMENTS Natia G. never thought of formalizing her marriage at the civil registry and chose instead only the traditional church route. She couldn't foresee then what difficulties that decision would bring her. After four years of marriage, facing separation, she came up against the issue of dividing jointly purchased objects, many of which she lost to her former spouse.
Natia G. also had sole responsibility of financially supporting their only child. "The case is in court," she says. "My ex-husband has been forced to pay alimony, but he covers it only partially. I can't manage to work on a daily basis, as my 4-year-old child is extremely emotional and totally dependent on me. I can't even send him to the kindergarden regularly. I depend on my parents to fully support us".
To understand what the main problems are for a single mother, Natia G. says, "Problems are not only connected with finances: the environment is negative, too. There's almost no employer in Georgia that would have empathy for or support a single mother. Once, I had to rush home from work to look after my child and the next day found a very tense atmosphere waiting for me at work. I felt compelled to leave".
In her words, there is a certain stigma towards single mothers in Georgian society. "I wish the central authorities would do something about it," she said. "It's not enough for us mothers to sit back and dream of the day their children's fathers will fully realize and fulfill their duties towards their children. The state structures should create job opportunities that would suit single mothers like us".
Natia G. is one of the beneficiaries of those 41 cases that the Human Rights Development Fund deals with. On October 16, at 'Rooms Hotel', the fund presented an account of the judicial state of single parents residing in Georgia.
Nino Gvedashvili, Chairperson of the Human Rights Development Fund board, opened the meeting.
"We were delivering consultations, as well as training, for single parents in the regions," she said. "The authorities did take on board a number of recommendations. Among them was eradicating discrimination in the law. We also had meetings with municipalities that are actively cooperating with us".
Reportedly, 25 municipalities of the total 75 have special allowances for single parents.
One of the aims of the project 'Advocating the Rights of Single Parents,' which is financed by the Dutch Embassy to Georgia, is to make single parents stronger.
"The status of single parent has existed since June 2015. However, we discovered that the record of the law is discriminative as it does not cover all single parents," Salome Mezurnishvili, project manager, stated. "They are treated as vulnerable people by the surrounding society. All the children who were born as a result of an unregistered marriage are considered 'unlawful children'. However, the ratification of the law itself is a big step forward."
A single parent is a single woman or man who is in an unregistered marriage and who has, or has adopted, a juvenile child/children.
"According to the Georgian State Department of Statistics, there were 2,794 candidates looking to receive the status of single parent in 2015-2016. However, in Georgia, only 1,719 people had said status as of June this year," Mezurnishvili noted. "Our project covered the regions of Shida Kartli, Kakheti and Imereti, as well as Tbilisi. Yet, there are practically no single fathers who have the 'single parent' status even though there are a lot of single fathers in general".
Reportedly, there is a benefit for mothers: there is no taxation for them if their salaries do not exceed GEL 3000 per annum. "Tax code Article 82 states that single mothers are free from tax up to GEL 3000 per year. Remaining income after that is taxed," Gvedashvili said. However, reportedly, this law is old and does not apply to single fathers and is thus discriminative, as are a number of laws. Special rating scores are required for candidates to be entitled to take advantage of the mentioned benefits.
The Human Rights Development Fund became acquainted with the relevant practices, in this regard, of the Czech Republic, Germany, Spain, Sweden, Denmark, Norway, Lithuania, Estonia and Poland.
"According to the special social laws of these countries, a single parent is a parent who is the only breadwinner of the family and raises juvenile children. In some cases, single parents are the grandparents of orphans, as well as those mothers or fathers whose spouses are in penitentiary institutions. As for allowances, there is some social aid, as well as preferences in tax rates, and support programs for their employment and training," Mezurnishvili noted.
There have been no appropriate studies on the social and economic guarantees of single parents that could then be transformed into relevant laws. Reportedly, there is also no appropriate reaction from the State, resulting in inaccurate statistics.
Levan Gogichaishvili, MP, head of the working group on appropriate legislation, also attended the presentation of the report.
"I doubt we can find such a thorough study in public structures," he said. "But we are planning for the future. First and foremost, the State Service Development Agency should pay attention to this research, as they're the ones in charge of the relevant statistics and activities. It would also be good if the Ministry of Health got actively involved. I'm sure that this legislation will get the needed support in Parliament and we'll hand such issues to the municipalities. That said, this project seems very costly and is beyond our budget as yet".
Maka Lomadze
23 October 2017 18:30