The Merging of Technological Giants: Silknet Buys Geocell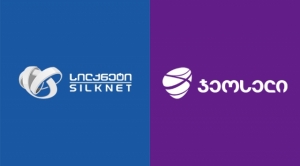 Today, on January 26 2018, the largest transaction in the history of Georgia has been created by a full spectrum telecommunications company that merges Silknet (internet, cable television and landline) to mobile phone operator Geocell. Silknet announced the deal after an agreement was reached with Geocell's shareholders: Telia Company (STO: TELIA) and Turkcell (NYSE: TKC, IST: TCELL).
The value of the transaction amounted to 153 million USD. The financing will be financed by TBC Bank and the bank of Georgian, along with Silknet's own capitlal.
Silknet is a member of the Orange Alliance, which promotes the development of international telecommunication companies, and their work enables them to use the experience and technologies of a world class leading operator.
The merging of the two telecommunications giants will enable Georgian customers to access internet, cable television, mobile and fixed telephone services, including mobile access to exclusive Silknet content.
"The transaction allows us to create an integrated telecommunication operator that owns fixed and mobile networks. The increased scale will provide better access to the company with international financial markets, which allows for the continuous development of additional investments and new technologies. Our subscribers will benefit from this, because our main goal is to provide Georgian customers with even higher quality products, services and content," Chairman of Silknet and its founding company Silk Road Group Supervisory Board, Giorgi Ramishvili, said. "We welcome the merits of Silknet and Geocell with high professionalism and a real corporate culture. This merging continues the long-term tradition of our group."
After the consent of the Georgian National Communications Commission, the acquisition will be completed in the first half of 2018.
Silknet
Silknet operation started in 2010. Silknet is the country's largest fixed network, offering customers internet, broadcasting transit (cable TV) and fixed telephone services, in addition to fixed and mobile CDMA services. Since 2015, Silknet has provided 4G LTE fixed internet services and is now the largest wholesale operator in the region.
Silknet is a Silk Road Group company founded by Giorgi Ramishvili in 1997. Shareholders of the Silk Road Group include Giorgi Ramishvili, Aleksi Topuria and David Borgeri. "Silk Road Group" is one of the leading private investment groups operating in the Caucasus and Central Asia, and in Georgia it is represented in different sectors including transport, real estate, hotel business, telecommunication and more.
Nowadays, Silk Road Group companies employ about 5,000 people. Over the last decade, Silk Road Group, with its partners, invested $500m (USD) into the Georgian economy.
By Máté Földi
26 January 2018 14:20