9th Tbilisi Burns Supper Raises Tens of Thousands of Lari for Charity
Around 200 guests partied until late in honor of revered Scottish poet Robert Burns at the 9th Tbilisi Gala Benefit Burns Supper and Ball at the Funicular Ballroom on February 3, which raised over 40,000 GEL for charity.
Three charitable causes – Temi Community (caring for a wide range of vulnerable people), Catharsis (helping the homeless elderly by providing hot meals) and Dog Organization Georgia (providing shelter for stray animals along with sterilization, vaccination and adoption programs) – will each receive a financial boost after another successful and much-enjoyed edition of what is now a key fixture on the Tbilisi social calendar.
The evening – of which the main sponsor was KPMG - followed the long tradition of Burns Suppers, with sumptuous food and plentiful drink punctuated by toasts and some Scottish country dancing.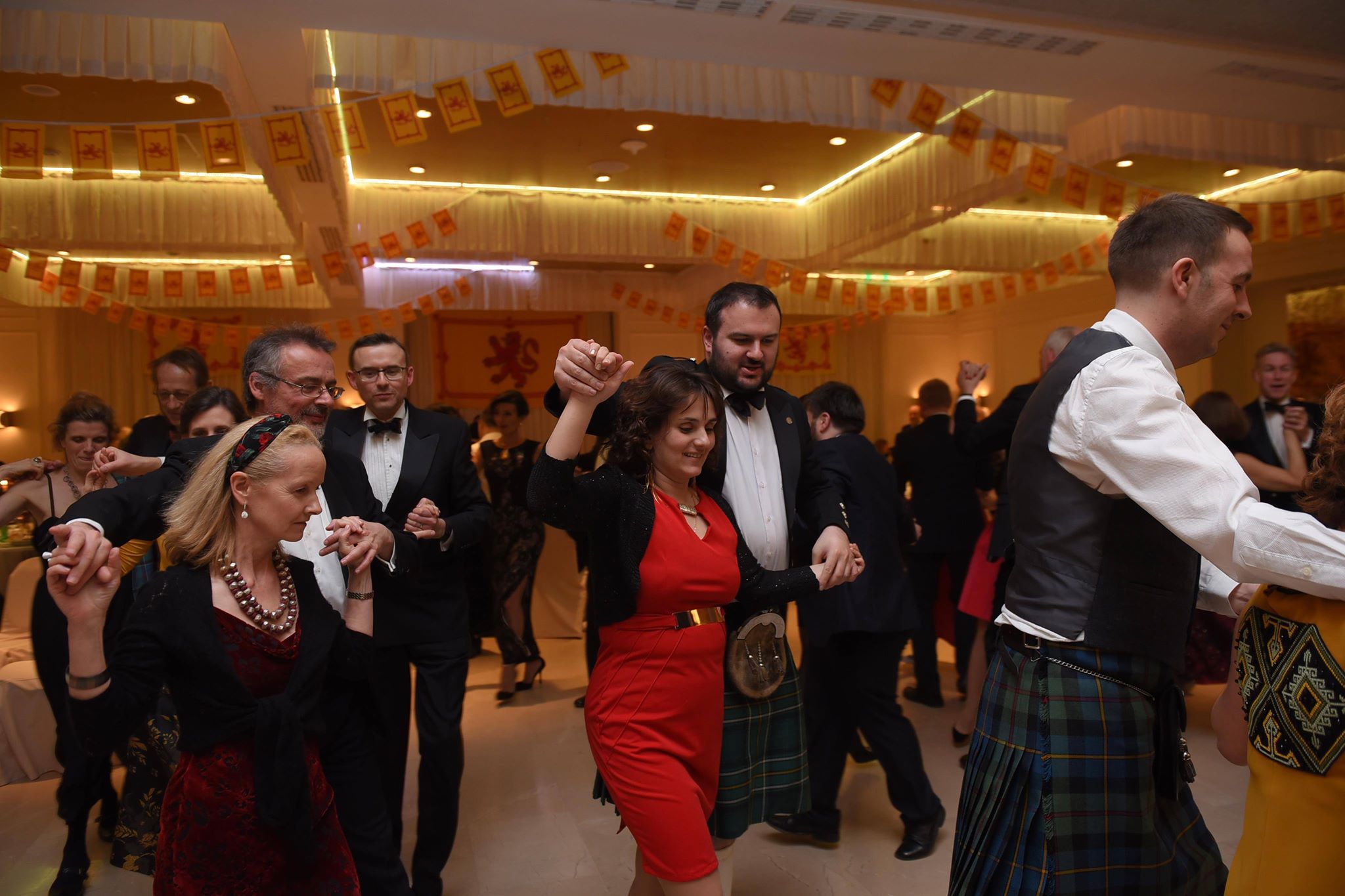 Guests were greeted by the unmistakable sound of the bagpipes, played with typical gusto by George Adamson, a native of Angus in northeast Scotland who has been stationed in Georgia with the EUMM for several years now.
With the revelers eventually in their seats, exemplary Master of Ceremonies Francesca Huemer Kelly gave a typically humorous and warm welcome, setting the tone for a night of high spirits.
Alastair Watt, raised in the golf-crazed village of Gullane in southeast Scotland, and part of the three-person organizing committee, then said the mercifully brief 'Selkirk Grace' to signal that nourishment was on its way.
Moments later, the star of any Burns Night, the Scottish delicacy of haggis, was paraded by piper George, Head Chef Jorge Da Silva, whisky bearer Cameron McNeillie and Irishman Jeffrey Kent. The latter then treated an attentive crowd to a wonderful rendition of the Burns poem "Address to a Haggis" paying tribute to what he called the "chieftain o' the puddin' race."
A sequence of fine courses prepared by Jorge and his team ensued, with soft-boiled Scotch egg, the inevitable haggis and beef all washed down with wine and/or whisky before Gvantsa Shengelia delivered a creative and topical immortal memory toast. She passionately defended the name of Burns against recent newspaper claims that, in his day, Burns may have behaved in a manner akin to the recently outed Hollywood predators.
On a slightly lighter note, Michigan's Tyler Green raised a glass to the lassies (girls/women), yielding streams of laughter with a flatulence-heavy speech. He was followed by Mila Lahue of Venezuela, who, after giving a very witty reply which involved a mysterious Swedish-sounding voice from deep in the crowd playing the role of God, earned a standing ovation.
Nicol McLaren and the Glencraig Band then invited the by now well-refreshed guests to the dance floor for a Gay Gordons and a Dashing White Sergeant, and the band and dancers would return later in the night after an auction and raffle.
The auction itself raised US $8,000, with one painting by Levan Mosiashvili going for $1800 alone. The raffle was similarly successful, as over 7000 GEL of tickets were sold, with the victors picking up, among other prizes, a flight in a Piper Archer III over the lakes of northwest England, and the Solway Firth which separates Scotland from England.
The partying ran well into the wee hours as promised on the ticket, and event organizers Maite Iniesta Ortiz, Sara Anna Modzmanashvili-Kemecsei and Alastair Watt all expressed their relief and joy that the Burns Supper tradition in Tbilisi had continued after the departure from Tbilisi of its magnificent originator Fiona Coxshall.
They said collectively: "The main thing was to keep the event going, and to raise as much money as we could for these three charities. We knew it would be difficult to maintain the incredibly high standards that Fiona had set, but hopefully we did her proud."
When asked about the plans for next year, the exhausted trio replied: "We're still talking to each other, which is a good sign. We'll meet for a celebratory drink soon when no doubt the topic of next year's Burns Supper, which will be the 10th edition, will come up…"
The main sponsor of the 9th Annual Tbilisi Gala and Benefit Burns Supper and Ball was KPMG. Also contributing kindly to the event were the following: Marriott Hotels; Funicular Restaurant; Sheraton Metechi Palace; American Medical Center; Betsy's Hotel; NineOaks Estate; PMCG; AmCham Georgia; Shumi Winery; Coca-Cola; Adjara Group; Georgian Rugby Union; MOXY Tbilisi.
By Charlie Reid
08 February 2018 15:23