Georgian Stock Exchange, IFC, CiDA & UN Women "Ring the Bell" for Gender Equality in Tbilisi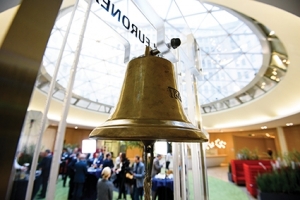 On March 7, and for the first time, Tbilisi hosted a "Ring the Bell for Gender Equality" event to celebrate International Women's Day 2018, the aim of which is to emphasize the importance of gender equality for economic development and growth.
Recent estimates show that if the gender gap in economic participation was closed by 25% by 2025, global GDP could increase by up to $5.3 trillion in the same time period. Georgia is ranked 75th out of 144 countries measured in 2017 for The World Economic Forum's Global Gender Gap Report, compared to 41st out of 115 countries over a decade ago.
The event highlighted how empowering women can help achieve higher productivity in private companies, ultimately supporting the economy and job creation, raising income, and promoting development. It attracted around 70 private sector, government, and international institution representatives.
Part of a global campaign taking place in around 60 other cities, the event in Tbilisi was a partnership between the IFC, a member of the World Bank Group, the Georgian Stock Exchange, UN Women, and the Civil Development Agency (CiDA), the Secretariat of Global Compact Network Georgia. The Norwegian Ministry of Foreign Affairs, supported the event, through the UN Women-led program.
"The potential benefits from women's economic empowerment are significant. Multiple studies show listed companies with women represented on boards outperform those without," said George Paresishvili, CEO, Georgian Stock Exchange. "We are delighted to join stock exchanges around the world in advocating for equal gender representation on boards and in senior management as a smart business strategy."
"Narrowing the gender gap can help drive growth and improve the lives of many families, which is why IFC and its partners have joined forces to strengthen women's participation in the private sector as employees, entrepreneurs, consumers, and leaders," said Jan van Bilsen, IFC Regional Manager for the South Caucasus. "Georgia would benefit greatly from tapping this potential."
Erika Kvapilova, UN Women Country Representative, said: "Women's empowerment is not only an important human rights imperative, and a precondition of sustainable development, but it also contributes to higher productivity, better results and greater sustainability for private companies."
Salome Zurabishvili, CiDA representative, Managing Head of the Global Compact Network Georgia, said: "Women's empowerment in the business sector in Georgia has been impressive in the last couple of years. We have been actively working with leading companies to support the incorporation of Women's Empowerment Principles in business operations and interest among businesses is growing rapidly."
This is the fourth Ring the Bell event organized globally by IFC and the Sustainable Stock Exchanges Initiative, together with the United Nations Global Compact, UN Women, Women in ETFs and the World Federation of Exchanges.
08 March 2018 15:36