Iran Interested in Using the Baku-Tbilisi-Kars Railway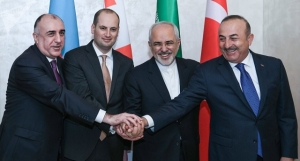 There seem to be numerous reasons for creating a quadrilateral format for Azerbaijan-Georgia-Iran-Turkey cooperation, primarily security.
This was stated by MP of the Milli Mejlis Rasim Musabekov, commenting on the first four-sided meeting of the Foreign Ministers of Azerbaijan, Georgia, Iran and Turkey held in Baku on 14th March.
"These four states are interested in maintaining stability and security in the region. And in this respect, I think such a meeting is of interest to all." R. Musabekov said. Yet, in addition, he said multilateral cooperation is planned in a number of areas, including transport and energy, for which the parties need further dialogue.
"Therefore, I think that such meetings will continue, maybe not as often, like tripartite meetings, which have already turned into a permanent diplomatic tool," the MP said.
Commenting on Iran's joining of the already established trilateral format Azerbaijan-Georgia-Turkey, Musabekov suggested that this is due to the release of Tehran from being under international sanctions.
"Now, Iran needs new communications that will allow it to develop economic and cultural ties in the direction of Europe. The way out for Iran is generally Azerbaijan. Iran is interested in using the Baku-Tbilisi-Kars railroad constructed by us; the next one from Azerbaijan to Georgia with access to its Black Sea ports and Turkey, "the political scientist said.
He noted that Armenia is trying to constantly offer itself to Iran as an outlet to the western direction, but its communications are not developed: there is neither a railroad nor means for its construction.
When asked whether the four-sided project is at risk, given the fact that sanctions can be returned against Iran, the US administration stands for, R. Musabekov said that "firstly, it will not be so easy to return the sanctions."
"The European partners of the United States, as well as China and Russia, categorically object to the revision of agreements with Iran on its nuclear program. Furthermore, we are not attracting Iran anywhere, we are just opening up the possibility of its connection, because all the projects of Azerbaijan in this sense, that is, in the context of Azerbaijan-Georgia-Turkey, were realized and implemented
"For Azerbaijan, one of the additional foreign exchange sources is the use of its unique geographic location at the intersection of the North, South, East and West. Of course, we are interested in the fact that our constructed, existing communications, primarily railway links, would be used rather intensively. And in this sense, additional cargo from the southern direction will exit after the missing section of Resht-Astara has been built, to which we have allocated money. We do this for Iran not for charitable purposes, as we have allocated a loan that will be returned; and as a result, a railway will be constructed, according to which a large volume of cargo not only from Iran, but also from Pakistan and India will have the opportunity to go not only to Northern Europe through Russia, but also through Azerbaijan, Georgia - to the south of Europe. And this route is attractive," the political scientist said. At the same time, he stated that this route has an alternative in the form of cargo delivery by sea through the Suez Canal." He concluded.
By Dimitri Dolaberidze
20 March 2018 12:12