New Kutaisi Airport Terminal to Be Completed in 2019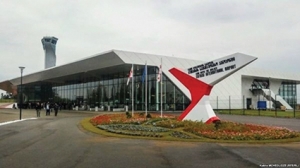 The New terminal of Georgia's Kutaisi Airport will be opened in early 2019 and will be able to serve three times more passengers than now.
The information was released by the press service of the Georgian Airports Association of the Ministry of Economy and Sustainable Development of Georgia, whose statement reads that there some changes had been made to the project due to the increased inflow of passengers.
"At present, the Kutaisi International terminal construction works are in their active phase. Concrete works are almost complete and the renewed terminal will be opened at the beginning of 2019, after completion of the full rehabilitation of the airport," the statement reads, noting that the dates of the project have not been changed.
The airport is to have six exits and will be able to serve 1000 passengers an hour.
The terminal design belongs to the Dutch architectural company, UN Studio. The airport development analysis was conducted by IATA Consortium.
The goal of UN Studio is to maintain a user-orientated experience. "The health and comfort of every single passenger is serviced through the correct application of architecture and spatial design," the firm noted.
After the renovation, the current airport terminal will become the Departure Hall. Like the existing terminal, the extension will boast an illuminated interior with views of the adjacent mountains. This space will lead to the roof of the building, which is to become a huge elevated plaza.
The Union of Airports of Georgia announced the tender for the second terminal of the Kutaisi airport terminal on July 26, 2017. The contract with the winning construction company, Anagi, was signed in August.
Active construction processes started in September 2017. The total value of the contract is 26.423.967GEL.
By Thea Morrison
16 April 2018 18:11