IMF Resident Representative in Georgia Meets with Minister of Economy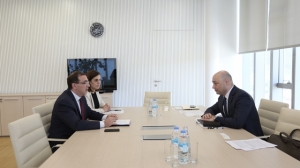 Giorgi Kobulia, Georgia's Minister of Economy and Sustainable Development, met yesterday with the Resident Representative of the International Monetary Fund (IMF) in Georgia, Francois Painchaud.
The two discussed ongoing projects under the IMF's Extended Financing Facility (EFF) program as well as current economic trends and scheduled reforms in Georgia. Kobulia noted that the EFF program is extremely important to Georgia's economic growth and development, especially as the program's foundation is the agenda of the Georgian Government and it enables the country to achieve its strategic goals.
The new law establishing an accumulative pension system, approved this weekend by the Parliament of Georgia, was also a topic of discussion. The law, said Kobulia, is an important step towards improving Georgia's social support system. They also spoke about other important reforms aimed increasing inclusivity as Georgia's economy grows.
Painchaud emphasized the Ministry of Economy's commitment to the EFF program and implementation of quantitative and structural criteria. Painchaud also praised Georgia's successful fulfillment of all its IMF obligations.
Both Kobulia and Painchaud confirmed their readiness to continue the productive cooperation between Georgia and the IMF in the future.
Deputy Minister of Economy and Sustainable Development, Ekaterine Mikabadze also attended the meeting.
By Samantha Guthrie
Photo: Ministry of Economy and Sustainable Development
Related Stories:
Parliament Approves Accumulative Pension Draft
25 July 2018 11:53