Georgia's PM Thanks Cartu Fund for Support in Annulling People's Debts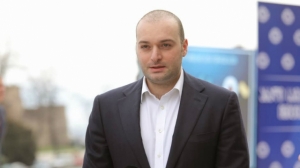 Prime Minister of Georgia Mamuka Bakhtadze thanked Cartu Foundation for supporting the governmental initiative to annul debts of over 600,000 citizens, of which 150,000 are socially vulnerable people.
At the special press-conference on Monday, Bakhtadze stressed that without the support of Cartu, this important initiative could never be carried out.
"Almost 95% of the debts on the black list consist of loans with a principle sum not exceeding 2000 GEL. We are talking about the financial responsibility of more than 600,000 citizens to banks, online organizations, or a variety of other financial institutions. The total amount of their debts amounts to about GEL 1.5 billion ($561,23m). Today's decision annuls this 1.5 billion GEL debt," Bakhtadze said.
Ivane Machavariani, Georgia's Finance Minister, says that Cartu Foundation will take the whole responsibility for paying the debts of the mentioned 600,000 people who are on the so called "black list".
"This step could not have been taken without the help of Cartu Foundation, which expressed full support to solving this problem. Negotiations with banks and other financial institutions have already been held regarding the current issue of excessive debts," said Machavariani.
Cartu Foundation was established by the Founder and Chair of the ruling Georgian Dream, Bidzina Ivanishvili.
By Thea Morrison
Related stories:
Annulment of Debts of 600,000 Citizens to Start on December 15
Gov't to Pay out 1.5 bln GEL to over 600,000 Citizens
19 November 2018 12:59