What Restrictions Will Remain after the End of State of Emergency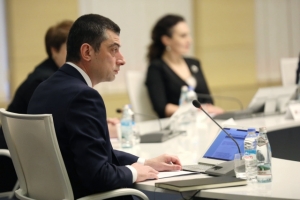 At today's briefing, Prime Minister Giorgi Gakharia said that after the end of the state of emergency, or May 23, a number of restrictions will be lifted, however, the launch of public transport and the opening of shopping malls is not planned at this stage.
The PM said that in order to take care of the health and life of citizens, certain restrictions, for example, those imposed on economic activities, movement of civil and municipal transport, sports and cultural events and border control, will be maintained.
"We all need to understand that if Georgia is successful in the battle against COVID-19, only because we have taken timely preventive steps.
"The most important thing for us is that we have the full support of each citizen in continuing the restrictions, which needs hard work and communication, " he noted.
In his words, in the neighboring countries of Georgia, the pandemic is now at its peak, therefore, the economy should be activated with careful and slow steps.
"As for the restrictions, today we are actually deciding that the state of emergency and the curfew will be lifted from May 23. Restriction on the presence of no more than three people in a car will also be lifted from May 23, except taxis. Quarantine is abolished in Bolnisi municipality, it remains only in two villages, Geta and Mushevani.
"Restrictions remain in force on borders, air and land traffic, restaurants will not be able to operate on-site services, shopping malls will remain closed. Sports-recreational and cultural activities - remain restricted," Gakharia said at the beginning of today's meeting of the Interagency Coordinating Council working on coronavirus issues.
In addition, citizens will still have to wear face masks in closed areas and keep a 2-meter social distance to prevent the risk of spreading coronavirus.
By Ana Dumbadze
Related Story: Restriction on Presence of no more than 3 People in Cars Lifted, Except Taxis
22 May 2020 13:38