Fine for Repeated Violation of Mask-wearing Rule to be Doubled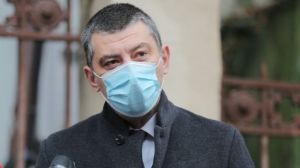 In addition to easing restrictions on the coronavirus pandemic, the government plans to tighten the rules.
Prime Minister Giorgi Gakharia said the relevant decision was made by the government at today's sitting.
For instance, in case of repeated violation of the rule of wearing a mask, the fine will be doubled.
Based on the current regulation, a person is fined 20 GEL for not wearing a face mask. When doubled, the fine will amount to 40 GEL.
Further, in case of deliberate violation of the regulations, organizations will not be able to receive subsidies provided by the state through the measures of economic support.
The Prime Minister noted that tightening the rules "Should reveal the responsibility of each citizen and organization."
For the record, the coronavirus-related restrictions in Georgia will stay in force on weekends despite gradual relaxation on weekdays.
By Ana Dumbadze
Related Story: COVID-related Restrictions to be Maintained over the Weekends
04 February 2021 12:10