More Opposition Parties to Support Vashadze in Runoff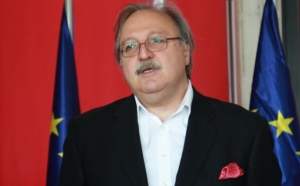 Several opposition parties, who had their own presidential candidate for October 28 elections, have stated they will support the United Opposition candidate Grigol Vashadze in the runoff, to be held on December 2.
The final results of the elections, published by the Georgian Central Election Commission (CEC) shows that the GD-backed presidential candidate, Salome Zurabishvili is leading with 38.64% of votes, followed by Grigol Vashadze - 37.74%.
European Georgia called on its supporters to vote for Vashadze, as their candidate David Bakradze received only 10.97% of votes.
"I have an initiative to create a coordination headquarters of opposition parties for better preparation for the second round, where we all will work for preparation and victory in the second round, "said Bakradze.
Zurab Japaridze, presidential candidate of Girchi, who got 2.26% of votes, states he will support Grigol Vashadze in the second round, even though this candidate is not as unacceptable for him as Salome Zurabishvili. In addition, Japaridze says he will not call on his supporters to vote for any candidate.
Republican Party also expressed support to Vashadze.
"In the first round we voted against Zurabishvili and of course in the second round we will do the same and support Vashadze," the party Chair Khatuna Samnidze stressed.
By Thea Morrison
Related stories:
Laima Liucija Andrikiene on Statements About Election Observer Organizations
Kakha Kaladze on the First Round of the Election
United Opposition Candidate Gets Majority of Votes Abroad
NGO TI Assesses Presidential Elections
30 October 2018 12:05