PM Kvirikashvili Meets First Georgian Ozeki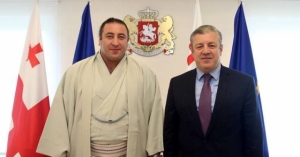 Georgian Prime Minister Giorgi Kvieikashvili has hosted the famous sumo wrestler Levan Gorgadze, the first Georgian Ozeki, a high rank in the sport. Levadze is known in the sumo wrestling community as Tochinoshin Tsuyoshi.
The meeting was held at the Governmental Administration on June 6. The PM thanked Tochinoshin for bringing fame to Georgia and for strengthening ties between Georgia and Japan.
"Despite the fact that Georgia and Japan are far away from each other, the culture of our peoples is very similar and Tochinoshin plays a special role to better introduce Georgia to the Japanese people," Kvirikashvili wrote on Facebook.
"You can always count on us, just like we count on you," the PM addressed the sportsmen after the meeting.
Tochinoshi was also awarded by the Japanese embassy to Georgia.
The Japan Sumo Association officially decided on the promotion of Gorgadze on May 30. The decision was officially confirmed to Tochinoshin and his stable master, Kasugano, in a ceremony.
Tochinoshin won 13 of 15 bouts in the Summer Grand Sumo Tournament that ended on Sunday. He also won a total of 37 bouts in the last 3 tournaments, more than the 33-win benchmark required for promotion.
He has taken part in 60 tournaments since his debut in the top Makunouchi division in 2008, and has competed in 71 Basho tournaments in sumo since 2006. He has won three Juryo Division Championships and two Makushita Division Championships.
Gorgadze is the third wrestler from Europe and the first from Georgia to reach the rank. The 2 other Ozeki-ranked wresters from Europe are Bulgarian-born Kotooshu and Estonian wrestler Baruto.
By Thea Morrison
Related story:
Georgian Sumo Wrestler Tochinoshin Promoted to Ozeki
07 June 2018 10:51