Georgian Judokas Win Two Gold Medals at the World Masters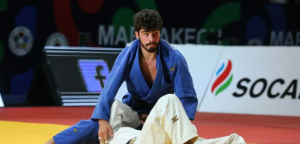 For the Georgian judo team, the third day of the World Masters held in Doha on January 11-13 turned out to be more successful than the previous two, seeing the Georgian athletes winning one medal in all three trials. Varlam Liparteliani, a wrestler in the 100 kg weight category, became the champion, Beka Ghviniashvili took second place in 90 kg, and Lasha Bekauri came third.
Varlam Liparteliani defeated Russian Niaz Bilalov, Uzbek Mukhmadkari Khuramov, and Jewish Peter Palchik on the way to the final.
Ghviniashvili lost to the current world champion, Noel Van Tend from the Netherlands, in the final, while Bekauri defeated a member of the Turkish team, Michael Zgank, in the repechage final.
Guram Tushishvili, Gela Zaalishvili, and Levan Matiashvili also wrestled at the World Masters on behalf of Georgia, but they lost in the initial stages and were excluded from the tournament in the morning program.
The Georgian judo team participated in the first international tournament of 2021 with a total of sixteen athletes and won five medals. Vazha Margvelashvili (66 kg) took third place on the first day of the three-day World Masters, and Tato Grigalashvili (81 kg) became the champion the next day. The 21-year-old Georgian, who arrived in Qatar as the current European champion, played five matches and won all five. On the way to the final, Grigalashvili defeated Hungarian Attila Ungar, Italian Antonio Esposito, Russian Alan Khubetsov, and South Korean Sungkho Lee. In the fight for the champion title, he defeated Frank de Wit from the Netherlands.

By Nini Dakhundaridze

Image source: International Judo Federation
14 January 2021 14:06