Georgian Wrestlers' Success at Grand Prix de France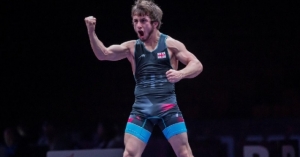 The Georgian Greco-Roman wrestling team competed at the final day of the 47th annual Henri Deglane Grand Prix in Nice, France on Monday.
Georgian athlete Giorgi Melia (97 kg) defeated his Azerbaijanian rival in the final and won the gold medal, while Sulkhan Buidze (130 kg) and Guram Khetsuriani (87 kg) earned bronze medals.
Earlier, the Georgian athletes grabbed 4 gold, 2 silver, and 3 bronze medals in freestyle wrestling.
Beka Lomtadze (61 kg), Zurab Iakobishvili (70 kg), Nika Kenchadze (79 kg) and Geno Petriashvili (125 kg) won gold medals in their weight categories. Davit Tlashadze (74 kg) and Givi Macharashvili (97 kg) received silver medals. Vladimer Khinchegashvili (65 kg), Beka Buchiashvili (57 kg) and Irakli Mtsitur (92 kg) won bronze medals.
Davit Marsagishvili was the only Georgian freestyle wrestler who could not manage to bring home a medal from the tournament.
By Ana Dumbadze
18 January 2021 13:03