Georgian under-20 Rugby Breaks Records at World Cup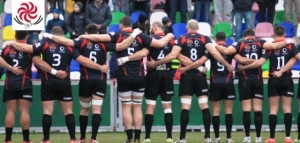 Georgia's under-20 (U20) national rugby team beat Scotland 39-31 in a match on Sunday in Beziers, France. The win at the beautiful 18,500-person Stade De La Mediterranee, left Georgia ranked 9th in the final results of the U20 Rugby World Cup.
Georgia played its way into the history books with three wins – the most the country has ever seen in the competition. The first win was over Japan 24-22, then Ireland 24-20, followed by the upset victory over Scotland. This year's Rugby World Cup was also the first time the team beat two teams from the Six Nations – the annual competition between the teams of England, France, Ireland, Italy, Scotland and Wales.
In their final game of the tournament, the young Lelos secured a victory with star player Tedo Abzhandadze, who turned 19 on June 13, scoring the fourth conversion, overcoming Scotland's three. Abzhandadze also scored two penalties.
Head coach Ilia Maisuradze was praised for his leadership of the young players, and one commentator said the team's victory over historically strong Ireland had "made history."
Georgia is the first team to maintain its spot in the highest level of competition after promotion from lower divisions due to its victories.
In the final match, home team France beat England 33-25 for their first ever U20 World Cup victory. Earlier in the tournament, Georgia lost to champions France 24-12, and South Africa 33-27.
The young athletes will return to Tbilisi early Tuesday warning to a warm welcome and well-wishers celebrating their historic showing at the 2018 U20 Rugby World Cup.
By Samantha Guthrie
Related Stories:
Georgian Rugby Beats French Barbarians
19 June 2018 07:03