PM Awards Georgian Basketball Player Zaza Pachulia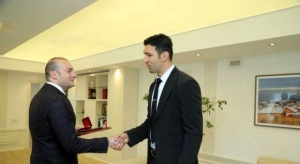 Georgia's newly-elected Prime Minister Mamuka Bakhtadze awarded the title of Knight of Sports to Zaza Pachulia, the former captain of the Georgian national basketball team and power forward for the Golden State Warriors, the current NBA champions.
The PM thanked Pachulia for his contribution to the promotion of Georgian basketball in the international arena, and wished the athlete success in his future activities.
Pachulia won the NBA championships with the Warriors in 2017 and 2018.
While he holds Turkish citizenship, Pachulia plays internationally for Georgia, captaining his national team in multiple tournaments.
By Thea Morrison
03 July 2018 11:46