Disgraced Boxer Avtandil Khurtsidze Rejects His Native Georgia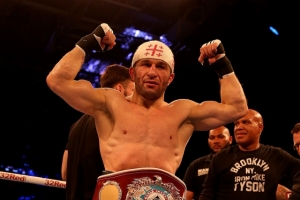 Georgian professional boxer Avtandil Khurtsidze was one of 33 criminals arrested in a June 7 crackdown by the U.S. Justice Department on the Brooklyn crime syndicate known as the Shulaya Enterprise, an "organized criminal group operating under the direction and protection of Razhden Shulaya" – according to a press release published by the Justice Department.
On June 8, 2017, Khurtsidze was indicted in U.S. District Court on charges of violating the Racketeer Influenced and Corrupt Organization (RICO) Act and conspiracy to commit wire fraud in connection with the Shulaya Enterprise. Khurtsidze was accused of working as an "enforcer" for the Brooklyn mob boss.
"Shulaya acted as the boss and Khurtsidze acted as his solider," prosecutor Andrew Thomas told the jury, according to the New York Post. Megan Bennet, who represented Khurtsidze, argued that the two men knew each other from Georgia and that they "socialized together" but Khurtsidze was not involved in Shulaya's criminal organization.
The prosecutors presented video evidence to the jury, showing what appears to be Khurtsidze threatening and assaulting people on behalf of Shulaya. "You will hear threat after threat after threat," Thomas described the videos of Khurtsidze.
The organization, which Shulaya allegedly led, is accused of running several illegal operations including trading untaxed cigarettes, an illegal poker ring, and hacking slot machine software to rig the winnings.
In a post on his Facebook account yesterday, Khurtsidze wrote, "The Government of Georgia has never applauded my success. I know the reason; I have never taken part in crackdown of rallies or beating of pensioners. Everyone, who has done so, is now occupying [government] posts. If the US deports me, and this will happen, I will continue my career in Russia. I already have proposals, but I will do my best to stay in the US. I will never ever hold the Georgian flag again."
Khurtsidze added that he plans to relinquish his Georgian citizenship.
Before his arrest, Khurtsidze was the reigning WBO International interim world champion. He was scheduled to compete against British boxer Billy Joe Saunders for the world championship in July 2017 in London, but the fight was canceled because of the arrest and he was stripped of his title.
By Samantha Guthrie
Photo: Bad Left Hook
20 July 2018 10:56