Newly Renovated Sport Complex Ceiling Collapses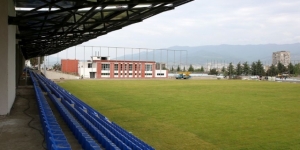 Part of the ceiling collapsed in a newly renovated sports club. According to the founder of the sport club, Georgy Hubedzhashvili, representatives of the club Shevardeni were present in the room when the incident occurred. No-one was hurt, but they are "well aware that things could have ended very badly."
"I was not in the room during the incident, but when the ceiling collapsed, the entire coaching staff of the Shevardeni-1906 football club was there. Fortunately, no one was hurt, but this could have had very serious consequences," Hubedzhashvili said.

At the beginning of the year, the Mayor of Tbilisi, Kakha Kaladze, described the situation as "humiliating" at the new training complex for players in Mukhiani. The sports complex, which opened in May 2017, was already in need of renovation in 2018 which was completed, poorly and dangerously.
This is not the first time renovations have failed, as on January 30, a part of the ceiling collapsed at the newly done-up Varketili Metro station, in Tbilisi, injuring 14 people.
By Shawn Wayne
06 August 2018 14:48