Georgian Women's National Team Victorious at European Archery Grand Prix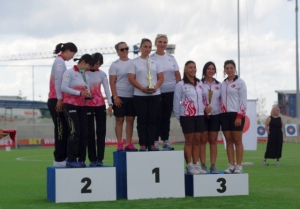 The European Archery Grand Prix was held in Sofia, Bulgaria July 31-August 4.
There are two styles of bow – compound and recurve. Participants compete as individuals, in single gender teams, or in mixed teams. In the recurve bow women's team event, Georgian athletes took home the gold. The team was made up of Kristine Esebua, Khatuna Narimanidze, and Tsiko Putkaradze.
Esebua is ranked 37th in the world. She competes in both indoor and outdoor events and has competed in several Olympics. Mother-daughter duo Narimanidze and Putkaradze, a relative newcomer to the sport, are ranked 29th and 98th respectively. Narimanidze is also President of the Georgian Archery Federation.
In the women's recurve team finals, Georgia beat Japan, who took the silver medal, 5:3. The Turkish women's team went home with the bronze.
The Georgian men's team also competed in Sofia – Lasha Pkhakadze, Zurab Mestvirishvili, and Jaba Moseshvili. The trio accumulated a total of 1,915 points and came in 14th place. In the first round, Georgia defeated Israel 6: 0 but lost in the second round to Holland.
In mixed doubles Kristine Esebua and Lasha Pkhakadze took 13th place with a total of 1,272 points. In the first round of mixed team competition, Georgia defeated Greece 5:1 but then lost to Russia 1:5.
By Samantha Guthrie
Photo: Ministry of Education, Science, Culture, and Sport
09 August 2018 15:00