Former Georgian Boxer Avtandil Khurtsidze Stabbed in New York Jail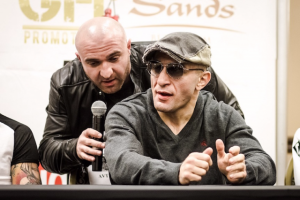 Georgian professional boxer Avtandil Khurtsidze was one of 33 criminals arrested in a crackdown last summer by the U.S. Justice Department on the Brooklyn crime syndicate known as the Shulaya Enterprise, an "organized criminal group operating under the direction and protection of Razhden Shulaya" – according to a press release published by the Justice Department. Shulaya, also known as Razhden Pitersky, Brat, and Roma, is a well known thief-in-law, said to have been "crowned" into the criminal subculture in 2013 in Cyprus.
In June 2018, Khurtsidze was found guilty of racketeering, wire fraud and other charges connected with the Shulaya Enterprise. While awaiting sentencing at the Brooklyn Metropolitan Detention Center, Khurtsidze and Shulaya were both attacked by men who are believed to be members of a Colombian gang.
The website Crime Russia reports that Shulaya and Khurtsidze both suffered multiple stab wounds, including wounds to the boxer's face. The cause of the incident is unknow, but it began with a verbal dispute between Shulaya and a leader of a Colombian prison gang that escalated to a physical fight. Khurtsidze, who, during the trial process, was accused of being the 'muscle' behind the Shulaya Enterprise, involved himself in the fight in an attempt to protect Shulaya. The pair have been in jail for over a year.
Before his arrest, Khurtsidze was the reigning WBO International interim world champion. He was scheduled to compete against British boxer Billy Joe Saunders for the world championship in July 2017 in London, but the fight was canceled because of the arrest and he was stripped of his title. Khurtsidze announced last month that he plans to relinquish his Georgian citizenship.
By Samantha Guthrie
Photo: Crime Russia
Related Stories:
Disgraced Boxer Avtandil Khurtsidze Rejects His Native Georgia
28 August 2018 15:27