Pain Follows Pleasure for Tskhadadze's Recovering Georgia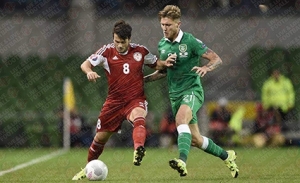 It may have culminated in a slightly disappointing and drab 1-0 loss to an agricultural Irish side in Dublin on September 7, but this was undeniably a good week for Georgian head coach Kakha Tskhadadze.
Victory over Scotland in Tbilisi on September 4, his first competitive win as national manager, saw some due reward for the encouraging yet erstwhile points-impoverished start to his reign.
On a Friday night that will live long in Georgian (and for completely different reasons, Scottish) memories, the home side exhibited a commitment, organization and resilience that had not been seen from a Georgian side since the early years of Temur Ketsbaia's time in charge.
In Vako Kazaishvili, the Vitesse Arnhem midfielder who is finally being given the regular national starting berth his club performances have merited for some time, Tskhadadze has a focal point around which to build the attacking component of his team.
With a deft first touch, a measured sense of adventure and, as the Scots learned to their detriment, a knack for clever finishes in and around the penalty box, Kazaishvili has become the poster boy of the Tskhadadze revolution.
At the dawn of Ketsbaia's time, it was Jano Ananidze who ably fulfilled this role, but his status would ultimately diminish for the national side. Ananidze did start against Scotland and showed signs of recovering better form of the early 2010s, but there still remains an anxiety that Kazaishvili's potential could go similarly unfulfilled.
What strengthens Kazaishvili's case for not following in Ananidze's footsteps is that he offers more defensively and could fit in to a more defensive formation, like the pone adopted by Tskhadadze on Monday night in Dublin at the Aviva Stadium.
With Ananidze ill and unavailable, Tskhadadze brought back 33-year-old Zurab Khizanishvili, making him the fourth natural central defender in a lineup that suggested a far more defensive outlook than the one Georgia were to actually take.
In the first-half in Dublin it was the Georgians who threatened most, with Kazaishvili at the hub of most things positive for the visitors. Lone striker Levan Mchedlidze again cemented his place as Georgia's first-choice attacker with a competent display, although a spurned opportunity at 0-0 when he raced through on goal only to barely register a shot on Shay Given's goal, still reflects the barren state of Georgia's striking options.
Tornike Okriashvili was in typically unpredictable form, producing moments of sublime skill one moment, and shooting horribly high and wide from a ridiculous range and angle the next.
Goalkeeper Nukri Revishvili, preferred to regular starter Giorgi Loria due to the latter being shy of match practice and an actual club to play for, produced an excellent showing in Dublin, with a few spectacular saves once the Irish eventually emerged from first gear in the second period.
He was eventually beaten by a scrappy Jon Walters goal midway through the second-half as Ireland navigated their way to a four-point lead over Scotland, and a place in the boxseat for a play-off position.
Any chance of a Georgian riposte was eradiated when Mchedlidze pulled up with what appeared a nasty hamstring injury, the extent of which is as yet unknown, in the 80th minute.
Aside from the aforementioned individual highlights, Georgia's team performance in Dublin was most encouraging as after many insipid years, we began to see a team which believed in itself and at least fought for every ball.
The form in the latter half of Ketsbaia's reign had seen Georgia nosedive to bottom pot status for the World Cup 2018 qualifiers.
However, if recent signs are to be believed, the Georgians will have a good shot at making Tskhadadze's goal of a third-placed finish in a generous group of Wales, Austria, Serbia, Ireland and Moldova.
Indeed, the Irish may have taken maximum points from Georgia once again, but they wouldn't have been delighted with the sight of Georgia emerging as their pot six opposition when the likes of Andorra and San Marino were in the same bowl.
Next up for Georgia is one such minnow, the visit of Gibraltar to Tbilisi on October 8.
Alastair Watt
10 September 2015 21:26