Politicians against Homophobia - Solidarity to Footballer Guram Kashia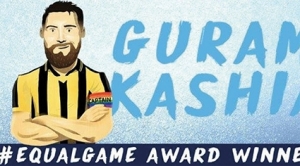 Georgian politicians from the ruling Georgian Dream (GD) and opposition say homophobia is unacceptable and have expressed solidarity to the captain of the Georgian national football team Guram Kashia, who has been criticized recently by nationalist groups and their supporters for expressing his support to the LGBT community.
Kashia deleted his Facebook account and closed his Instagram page after insulting comments were made following the information that he will receive an #EqualGame Award from UEFA, which aims to recognize players who have acted as a role model in promoting diversity, inclusion and accessibility in European football. It was presented at the UEFA Champion League group stage draw and gala in Monaco on 30 August.
Kashia was first slammed in October 2017 for wearing a rainbow flag armband in support of the LGBT community during a match in The Netherlands. Some Georgian and ultra-nationalist groups accused him of LGBT propaganda and held several rallies against him.
Kashia's fans and supporters have now launched a campaign in solidarity to him. They call on others to post his photo with the slogan #გურამშენთანვართ and tag the captain's Instagram account @37gk.
Sophio Kiladze, the Chairman of the Human Rights Parliamentary Committee and GD member, responded to the campaign in support of the footballer on Facebook.
"Such psychological pressure, violence and aggression towards Guram Kashia is unacceptable. We should respect each other more. I understand that people in our society have different visions and opinions, and each of us has the freedom to express their opinion, but we should use a proper form for this. Threats and oppression are unacceptable, as is homophobia itself," Kiladze's post reads.
Parliamentary minority European Georgia's presidential candidate, David Bakradze also condemned violence and homophobia.
"It is unacceptable and inadmissible when openly pro-Russian and fascist forces are threatening the football player because he condemned violence and supported equality between people," Bakradze said.
The presidential candidate from the United National Movement (UNM) party, Grigol Vashadze, also commented on the issue, saying he supports Kashia.
"I am against all discrimination and hatred! Love football and football players," he stated.
The captain responded to his supporters and fans, saying he reads every single message and is very proud.
A protest rally against homophobia and in support of Guram Kashia will be held on September 9 at Dinamo Arena in Tbilisi.
"We want to express our solidarity to Guram Kashia at the Georgia-Latvia football match. We call on every fan who supports Kashia to print out #გურამშენთანვართ on paper and hold it up during the game," the organizers of the rally stated.
By Thea Morrison

30 August 2018 17:19