Georgian National Football Team to Play in Kazakhstan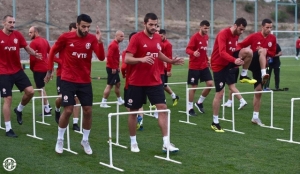 The Georgian national football team has begun preparing for UEFA Nations League matches. Georgia will have its first match against Kazakhstan in Astana tomorrow, September 6. The match, at the Astana Arena, will start at 18:00 Tbilisi time. The next game will be at home on September 9, when the Georgian team will host Latvia at Tbilisi's Dinamo Arena.
19 of Georgia's most talented footballers gathered on Monday at the FC Zestafoni training center at Tbilisi Sea, under the leadership of national team coach Vladimir Weiss. Vako Kazaishvili, Guram Kashia, Jimi Tabidze, Otar Kiteishvili and Giorgi Arabidze did not attend the training due to conflicts with their professional clubs– they joined the national team yesterday. Jaba Jigauri was involved in yesterday's training as well, before which he played in a Premier League 2 match with French Ligue 2 club Grenoble Foot 38.
The national team left for Astana this morning.
In the 2018-2019 UEFA League Tournament, 55 European teams will compete in four leagues. The winner of each league will automatically gain the right to participate in the final stage of the 2020 European Championship. The Georgian national team is in the least competitive league, League D. The league includes 16 teams divided into 4 groups. Georgia is in the first group along with Kazakhstan, Latvia and Andorra. To fight its way into the European Championship, the Georgian national team must win its group, then beat the winners of the remaining groups.
By Samantha Guthrie
Photo: Ministry of Education, Science, Culture, and Sport
05 September 2018 09:12