Inaugural Anaklia Cup Horse Race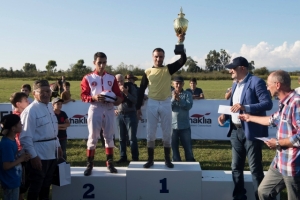 For the first time in its history, the Black Sea coastal town of Anaklia held the Anaklia Cup horse race on Saturday September 29. The races were held in the village of Ingiri, in the Anaklia Municipality.
The competition's inaugural year saw competitors from across the country participate in three races – the first for native Georgian horse breeds, and the second for two-year-old British breeds and the third for three-year-old British breeds.
The first-place winner in each race was awarded a prize of 25,000 GEL. The winners were Tornike Todria, Saba Ekhvaia and Azero Aliyev.
Aleksandre Motserelia, Governor of the Samegrelo-Zemo Svaneti region, said "Horse riding is traditional for Georgia and it is also important that this race is held near the occupation line [of Abkhazia]. In the near future we plan to invite riders from Abkhazia as well to involve them in the race."
The 2018 Anaklia Cup was organized and sponsored by the Anaklia Development Consortium as part of their efforts to develop Anaklia as both a tourist destination and a modern city. Their hope is that the Cup will become an annual event and expand to include international participants.
"It is our sport, culture, and tradition that has been organized by the Georgian and Abkhaz horse riders annually at the Enguri Bridge. Our goal is to restore the common Caucasian and Georgian traditions to support the development of Georgia's equestrian school and its international presence," said Anaklia Development Consortium founder and supervisory board chairman, Mamuka Khazaradze.
TBC Bank, the Samegrelo-Zemo Svaneti Regional Administration, and the Zugdidi Municipality also supported the competition.
By Samantha Guthrie
Photo: News.ge
01 October 2018 19:06