World Chess Olympiad held in Batumi Spotlighted by Euronews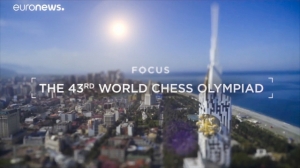 World Chess Olympiad being held in Batumi is aired on Euronews.
An extensive reportage made within the program "Focus" thoroughly covers the World Chess Olympiad, the potential of the development of Batumi, as the host city of the Olympiad, and the stories and visions of famous Georgian female chess players of the old and new generation.
During a week, millions of viewers of Euronews are getting acquainted with the reportage about the Olympiad and Batumi in 12 languages, which promotes the popularization of Georgia, namely Batumi, as a host of international Olympiads.
The crew of Euronews visited the region at the invitation of the Adjara Tourism Department.
Within the framework of the cooperation with the Department, Euronews has dedicated eight programs to the region's tourism potential in the last two years.
Gradually, the promotional videos of Adjara are also aired by the TV Company.
Apart from Euronews, the Adjara Tourism Department cooperates with international TV companies such as Deutsche Welle, BBC, CNN, RTL in order to promote the popularization of the region.
Euronews program can be viewed at the following link - https://www.youtube.com/watch?v=oKpb-As7D_Y.
15 October 2018 15:32