Georgian National Football Team Crushes Andorra 3-0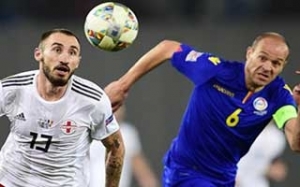 This past Saturday night, the Georgian national football team played the Andorra national football team at Dinamo Stadium in Tbilisi. Georgia landed a 3-0 win against the small European country, coming as a surprise to many.
Georgia's first two goals were scored by Vakho Kaziashvili, and the third by Jaba Jankava during extra time.
It was Georgia's third win in the UEFA Nations League series, leaving Georgia on top of its group, with nine points. Georgia's group in this year's Nations League D League includes Andorra, Kazakhstan, and Lativa. Georgia plays Lativa in Riga Tuesday night.
By Samantha Guthrie
Photo: OurMatch
15 October 2018 16:21