New Sports Complex Opens in Nadzaladevi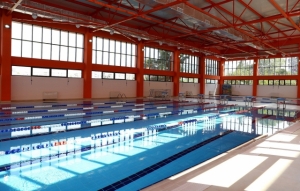 A new sports complex has been added to the capital city.
The complex is located in the Nadzaladevi district, near Tbilisi Sea, and sits on 3,247 square meters. It has the capacity to serve as many as 1,500 people.
Tbilisi Mayor Kakha Kaladze visited the new complex on Friday together with Deputy Mayor Irakli Bendeliani for the opening ceremony. Also in attendance were Head of the City Assembly Giorgi Tkemaladze, Head of the Municipal Department of Culture, Education, Sport and Youth Affairs Irakli Gvilava, Head of the Nadzaladevi District Irakli Kheladze, and majoritarian deputies of the Tbilisi City Assembly and Parliament. The complex was built in accordance with a directive from Kaladze to popularize and facilitate healthy lifestyles throughout the city.
"The state, as well as municipalities, should do everything to promote a healthy lifestyle. Unfortunately, we do not have proper infrastructure in the country to facilitate and develop this direction. The existence of such complexes in particular areas and districts is very important. [Other] multifunctional complexes, which are planned to open next year, will be large-scale and offer more facilities. I think this approach will promote sports development and a healthy lifestyle, which is so necessary for the population of the capital. Each of us should be involved in this process, because there is no alternative to living a healthy life," said Kaladze.
The new complex includes a wrestling hall, boxing ring, two swimming pools (large - 25m, small - 15m), a gym with aerobic equipment and weights, locker rooms, a cafe, and a sports shop. There will be classes offered in swimming, water polo, wrestling, boxing, artistic gymnastics, oriental martial arts, and fitness.
The sports complex construction program aims to increase access to services, popularize a healthy lifestyle, and engage young people in athletics.
By Samantha Guthrie
Photo: Tbilisi City Hall
16 October 2018 08:56