PM Opens Conference of European Sports Ministers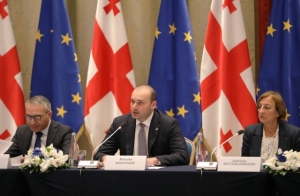 Prime Minister of Georgia, Mamuka Bakhtadze opened the 15th Council of Europe (CoE) Conference of Ministers responsible for Sport which is taking place in Tbilisi on October 15-17.
The PM noted that Georgia is a civilized country of cultural diversity and heritage, which at the same time is well known for its ancient sports traditions.
"The cooperation between the Council of Europe and Georgia has deepened since 1999 and the field of sports has an important part in this cooperation," he said, adding Georgia is an integral part of Europe in terms of geographical, political and cultural values.
Bakhtadze said Georgia welcomes that the state agencies, international organizations, transnational corporations or NGOs increase their contribution to the sport sphere and among them is Georgia.
"Directly or indirectly, the field of sports is getting closer to the public consciousness and everyday life. It is gaining universal social, economic, educational and cultural importance. The results of a number of studiesshow that sports has become a powerful instrument of the European integration process," he added.
The sports conference is organized every two years under the Council of Europe's Enhanced Partial Agreement on Sports (EPAS), with the Georgia's Ministry of Education, Science, Culture and Sport as a co-organizer.
Deputy Secretary General of the Council of Europe Gabriella Battaini-Dragoni, CoE member states' senior officials responsible for sports (ministers, deputy ministers, and department heads) and the heads of international sports and non-governmental organizations also participate in the conference.
According to the Ministry of Education, Science, Culture and Sport, the 2018 Sports Ministerial is dedicated to the 100th anniversary of the restoration of Georgia's independence.
By Thea Morrison
17 October 2018 00:34