Georgia Takes Home Six Medals at 2018 Youth Summer Olympics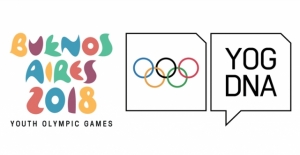 The Third Youth Olympic Games were held in Buenos Aires in the beginning of October. More than 4,000 athletes from 206 countries came together to compete in the althletic competition. Georgia took home 6 medals, landing in overall 44th place. Today, the Olympic Committee met with the young athletes along with the First Deputy Minister of Education, Science, Culture and Sport, Mikheil Giorgadze, and Deputy Minister Shalva Gogoladze.
The final ceremonies of the Games were held in the Olympic Village, during which flag bearers of the participating countries walked in the traditional parade, athletes alongside coaches, referees, international sports officials, volunteers, International Olympic Committee President Thomas Bach, Argentine President Mauricio Macri, and President of the Argentine Olympic Committee Gerardo Werthein. For Georgia, wrestler Giorgi Chkhikvadze carried the national flag.
Bach noted his great appreciation for the work of the organizers of the Olympics and noted that it was an innovative games that united young sportsmen around the world and gave them unforgettable days full of emotion.
The next Youth Summer Olympics will be held in Dakar, Senegal in 2022, making it the first official IOC event to take place in Africa. Bach passed the olympic flag ceremonially to the Mayor Dakar, Soham el Wardini.
According to the Steering Committee of Buenos Aires 2018, more than a million people attended the Youth Olympics, including spectators who watched sporting events and the opening and closing ceremonies.
More than 200,000 people attended the opening ceremony, which was, for the first time in the history of the Youth Olympics, not in a stadium but on the central square of Buenos Aires.
Georgian Athletes Took Home the Following Medals:
Gold - Giorgi Chkhikvadze, Greco-Roman Wrestling
Silver - Giorgi Tokhadze, Greco-Roman Wrestling
Silver - Giorgi Gegelashvili, Freestyle Wrestling
Silver - Ilia Sulamanidze, Judo
Silver - Archil Malakmadze, Weightlifting
Bronze - Nino Khutsidze, Shooting
By Samantha Guthrie
Photo: International Olympic Committee
23 October 2018 17:04