Georgian Football Team Victorious Against Kazakhstan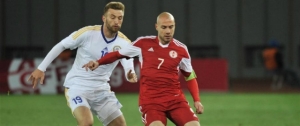 November 19, the Georgian national football team beat Kazakhstan 2 goals to 1 in the UEFA Nations League at Boris Paichadze Stadium in Tbilisi.
Georgia scored the first goal of the match in the 59th minute with Giorgi Merebashvili performing a header from the right side of the six-yard box into the bottom right corner. The second goal was scored in the 84th minute with a right foot shot from Giorgi Chakvetadze from the center of the box to the top right corner.
Kazakhstan retaliated with a goal in the 90th minute by Oralkhan Omirtayev, but it wasn't enough to claw back the match which ended after 4 minutes of extra time with a victory to Georgia.
Serikzhan Muzhikov and Gafurzhan Suyumbayev from the Kazakhstan team both received yellow cards for bad fouls.
The Georgian team averaged 66.5%, with 20 total shots compared to 8 by the Kazakh team.
Undefeated so far, Georgia is the clear leader in group D1, having won 5 games and drawn 1.
Photo source: Betting Tips X
20 November 2018 09:57