Georgia Beats Tonga in Rainy Weekend Rugby Match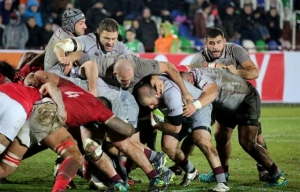 On Saturday night, Georgia's national rugby team, the Lelos, beat Tonga's national team, 'Ikale Tahe, with a score of 20-9.
After a day of rain showers, the field was muddy and slick, but Georgia's players clawed their way to victory.
The game took place at Mikheil Meskhi National Stadium in Tbilisi.
By Samantha Guthrie
Photo: sportall.ge
26 November 2018 17:39