Batumi Awarded the Title of European City of Sport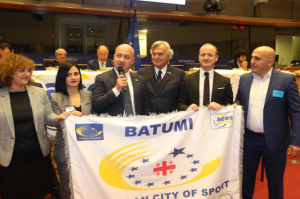 On December 4, the European Parliament in Brussels hosted the Awards Ceremony of ACES Europe for the European Capitals and Cities of Sport. More than 30 cities were awarded with titles of Capitals, Cities, Communities, Islands, Towns, Resorts and Companies. Batumi was included in the final list, given the title "European City of Sport for 2019."
The ceremony was attended by a Georgian delegation, led by the Mayor of Batumi Lasha Komakhidze. The title and the flag of European City of Sport was personally awarded to Komakhidze by the President of the European Capitals and Cities of Sport Federation - Gian Francesco Lupattelli.
ACES Europe is a non-profit association based in Brussels which, every year, awards the titles of European Capital, City, Community and Town of Sport.
The allocation of these recognitions are done by ACES Europe, according to the principles of responsibility and ethics, being aware that sport is a positive factor for society, bringing communities together, improving quality of life, psycho-physical well-being and encouraging more complete integration between social classes.
Before awarding Batumi the status, the President and the Commission of ASEC Europe travelled to the Black Sea coastal city, and toured its sport facilities. A number of issues related to planned projects were also discussed. The representatives of ASEC Europe were informed about the achievements of Batumi sportsmen in various sports.
ACES Europe made the decision to give Batumi the title of the European City of Sport and Budapest with the title of the European Capital of Sport in 2019.
The awarding ceremony was attended by the members of Parliament, Ministers, the Mayors of the European Capitals and Cities of Sport and delegations from Malaga, Lisbon and the Hague.
By Ketevan Kvaratskheliya
Image source: imedinews.ge
05 December 2018 15:10