Georgian Snowboarder Jaba Skhvediani Wins Gold in FIS Competition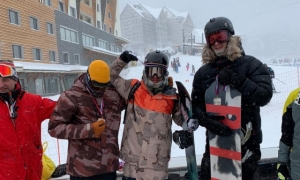 Georgian snowboarder Jaba Skhvediani has won gold at the International Ski Federation (FIS) competition in Kopaonik, Serbia.
The event, one of the first competitions of the season, was held 3 - 5 January. International male and female athletes competed in categories such as big air, slope style, and ski jumping.
Skhvediani, 23, from Tbilisi took first place in the snowboard slope style event. Building on his success in 2017 when he finished top four in the same competition, he has got his 2019 season off to a great start.
Skhvediani has competed internationally in Snowboarding, other events include the World Cup Qualifying rounds and the World Snowboard Championships in Sierra Nevada in Spain.
By Amy Jones
Photo source – Jaba Skhvediani Facebook page
04 January 2019 18:08