Zaza Pachulia Invites Injured Georgian Soldier to NBA Game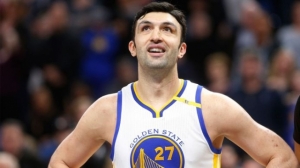 Zaza Pachulia invited an injured Georgian soldier to a National Basketball Association (NBA) match in Washington on 21 January.
Senior Lieutenant Iveri Buadze was wounded in September 2017 whilst supporting NATO's Resolute Support mission in Afghanistan. Pachulia invited Buadze to watch his team, Detroit Pistons, play Washington Wizards. The Detroit Pistons lost 101-87 to the Wizards.
Buadze is continuing his recovery in Washington at the Water Reed National Military Medical Center where he was last year visited by former Georgian Prime Minister Giorgi Kvirikashvili.
In 2017, Pachulia became the first Georgian ever to win the NBA champion's title. He was also awarded the Order of Honour in recognition for his efforts to develop local sport and represent the country abroad. He also received the Knight of Sports award for his promotion of Georgian basketball abroad.
By Amy Jones
Photo source: CSN Bay Area
22 January 2019 22:55