Batumi to Host 2019 European Wrestling Championship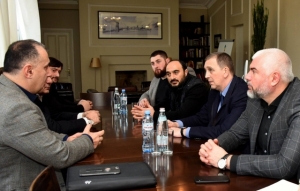 Batumi will host the 2019 European Wrestling Championship April 6-13.
On January 31, a meeting was held by First Deputy Minister of Education, Science, Culture and Sport of Georgia, Mikheil Giorgadze, to discuss the organizational issues of the Batumi European Championship.
The meeting was attended by the Deputy Minister of Finance of Georgia, Kakhi Kakhiashvili, Vice President of the Georgian Weightlifting Federation Nodar Sirbilashvili, head coach of the Georgian team Giorgi Asanidze, Olympic, World and European champion weightlifter Lasha Talakhadze and European champion, Olympic Games prize winner Irakli Turmanidze.
Initial estimates are that up to 400 sportsmen will be in Batumi to participate in the European Championship, plus as many as 800 guests from 50 delegations will visit. In February, Batumi is scheduled to host a regular visit of the Secretary General of the European Weightlifting Federation, Khasan Akush, and Technical Director David Goldström, where foreign guests will discuss the preparation of the championship together with representatives of the Ajara government.
Broadcasting rights for the 2019 European Championship are given exclusively to the sports TV channel "EuroSport." The championship is expected to draw 60 million viewers over 40 hours of live broadcasts. The European Championship will be held in a new, multifunctional sports palace in Batumi which was built for the World Chess Olympiad, held last year.
Georgia last hosted the championship in 2015, at Tbilisi Sports Palace.
By Samantha Guthrie
Photo: Ministry of Education, Science, Culture, and Sport
31 January 2019 18:09