Levan Kobiashvili Elected President of the Georgian Football Federation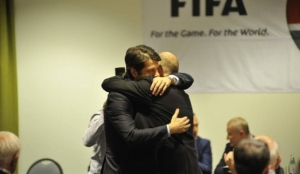 Retired Georgian footballer, Levan Kobiashvili, has been appointed the new president of the Georgian Football Federation (GFF).
After a lengthy and intense debate, Kobiashvili won the elections against Revaz Arveladze and Mamuka Kvaratskhelia last weekend with a majority of the votes.
The results were announced late Saturday night, after a day of deliberations and clashes between supporters of Kobiashvili and Arveladze.
The 38 year old Kobiashvili, elected for a four year term, replaces Zviad Sichinava who led the federation since 2009 and resigned after a ticket selling scandal for the UEFA Super Cup match, Barcelona-Sevilla, in Tbilisi.
Kobiashvili claimed that one of his supporters was locked in a room at the Holiday Inn, where the GFF congress took place.
The new president, who spent 16 years of his career playing for German clubs – SC Freiburg, FC Schalke 04 and most recently Hertha BSC – enjoyed the backing of his former national teammate, Kakha Kaladze, Georgia's current deputy PM and Minister of Energy. The appearance of the Minister of Energy and former AC Milan player at the GFF congress, was considered by some the Government's attempt to lobby for the candidate. Afterward, Kaladze explained he was in the hotel to meet with a member of the UEFA's executive committee.
GFF has been severely criticized in recent years, mostly due to the national team's poor results. FIFA ranks Georgia 110th, the team rose 37 places thanks to a 1-0 win against Scotland in the Euro 2016 qualifier earlier this September in Tbilisi.
05 October 2015 13:58