Shooter Nino Khutsiberidze Wins Gold in Paris Grand Prix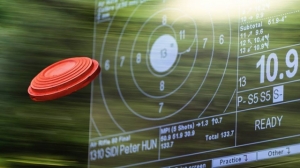 Georgian teenage shooter Nino Khutsiberidze won gold at the junior Paris Grand Prix on 14 February.
Khutsiberidze, who previously finished second in the qualifying round, took the gold medal in air pistol with 235.2 points. She beat local favorite Camille Jedrzeweski and Ana Lopez Gallero from Spain.
Two other young female Georgian athletes also participated in the competition. Mariam Kobulashvili, who took part for the first time, came in sixth place. Lizi Kiladze finished eigth. Akaki Mosulishvili, the only male junior to represent Georgia in the competition was awarded fourth place.
The International Shooting Sport Federation organizes the Paris Grand Prix. The competition will conclude on Saturday.
By Amy Jones
Photo source: International Shooting Sport Federation Facebook page
15 February 2019 19:54