Georgia Beats Spain in Rugby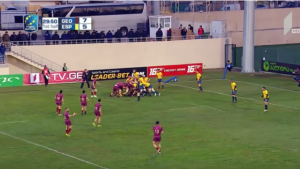 On February 17, the Georgian rugby team beat Spain 24 - 10.
The game took place at Avchala stadium in Tbilisi in cold and windy conditions. Despite the difficult conditions, the Georgian team scored 4 tries and 2 conversions. Spain scored 2 tries, failing to gain any conversions.
Georgian player Levan Chilachava was awarded Man of the Match. Two Spanish players received yellow cards for foul play.
The game was part of the Rugby Europe Championship. Over the weekend, Russia defeated Belgium 64 points to 7, Romania won against Germany 38-10, and Portugal defeated Poland 65-5.
The Georgian team's next games are away against Belgium on March 2 and at home in Kutaisi against Germany on March 10. The Georgian men's rugby team currently ranks 12th in the world, behind Japan and above the United States.
By Amy Jones
Photo source: Daily Rugby
18 February 2019 16:22