Georgian Kickboxer Davit Kiria Becomes World Champion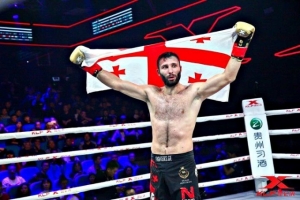 Georgian kickboxer Davit Kiria who competed in the World Championship in China (KUNLUN World Championship), has become a champion.
Kiria gained the belt of world champion for the third time in his career (-70 kg weight category).
In the final, Kiria faced Marouan Toutouh from Morocco.
After five tense rounds, Kiria won (29-29, 28-29, 30-29, 30-27, 30-29).
Kiria competes in the Lightweight division. An Ashiharakarate stylist, he is known for mixing crisp boxing with unorthodox kicking techniques.
He won the 2009 Kyokushinkai Karate Kamakura European Championship and also built up experience on the Dutch kickboxing scene before joining the Glory promotion in 2011 where he has faced some of the top fighters in his weight class and won the Glory Lightweight Championship in Zagreb (Glory 14), on March 8, 2014.
By Thea Morrison
Photos and video by Davit Kiria Facebook Page
25 February 2019 07:29