Georgian Wrestler Demands Dismissal of His Attacker- President of Federation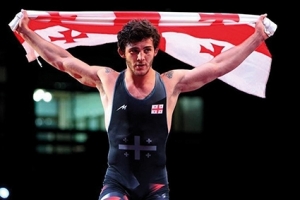 Zurab Datunashvili, Captain of the Greco-Roman style wrestling team of Georgia and twice European champion, has demanded the dismissal of his attacker, Gega Gegeshidze, who is the President of the Georgian Wrestling Federation.
The incident between the two men allegedly happened on January 11 at the Sports Palace in Tbilisi, when Gegeshidze physically assaulted the young sportsman.
Datunashvili addressed the police and an investigation was launched under Articles 126 and 239 of the Criminal Code of Georgia, after which the President of the Federation was arrested on charges of physically abusing Datunashvili.
Gegeshidze had consistently denied the charges, saying "someone was backing Datunashvili to discredit me" but during the trial, he admitted attacking Datunashvili and even apologized for his behavior.
He was released in exchange for a GEL 5000 bail from the courtroom after the trial, and has kept his position at the Federation.
The Wrestling Federation discussed the case on Saturday. However, as Datunashvili says, Gegeshidze's dismissal was not mentioned during the meeting.
The sportsman says he cannot continue working with Gegeshidze and the only way for him to succeed in his career is to leave the country.
He took to Facebook to express his opinion regarding the case. Datunashvili is sure that Gegeshidze's apology is aimed only at maintaining his post.
"Otherwise, he would not have denied attacking me, or would have apologized from the beginning. His actions are cynical," the post reads.
Datunashvili says if he leaves the country, he might be disqualified.
"If I leave Georgia, they can give me a two-year disqualification, meaning I cannot take part in competitions with the name of any country. However, even if it happens, I am ready to do it to protect my position," he said.
Datunashvili was also supported by the non-governmental organizations, who gathered at the Wrestling Federation on January 23, requesting the resignation of the President.
Leri Khabelov, Chairman of the Olympic Committee, says that Gegeshidze again apologized to Datunashvili at the presidium meeting.
"We have not discussed Gegeshidze's resignation, as this issue is under consideration in the city court," Khabelov said, adding that Datunashvili is a Georgian athlete on a scholarship and that it would be bad to have him "competing on behalf of another country."
"We want him to get an Olympic Games license. The presidium had the same opinion but Datunashvili rejected the offer and said that he wanted to continue his career on behalf of another country. We will consider this issue, but I will not support the idea of Datunashvili competing against us," he said.
By Thea Morrison
Image source: Marshall Press
25 February 2019 17:10