Snow Rugby to Boost Georgian Winter Tourism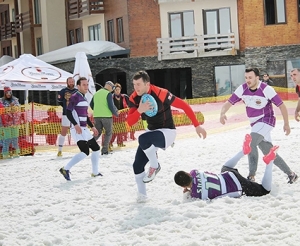 There's not much winter left with spring fast approaching, but there are still a number of events scheduled in Georgia's various mountain resorts to celebrate the last of the chilly season. One caught our eye in particular: the snow rugby tournament which Bakuriani will host on March 3.
GEORGIA TODAY contacted one of the event organizers, Zura Duglaze, to find out more.
Before speaking about the event, Dugladze briefly informed us about the sport itself. "There are different disciplines in rugby, comprising of teams of 15, 7 and 5 participants. Along with 'ordinary' rugby, there are also beach and snow subcategories. Beach rugby is more developed and widespread around the world. There is even a Beach Rugby European Championship," he said, adding that "Snow rugby is neither so big nor popular yet, but Georgia has a wonderful advantage in its suitable mountainous terrain, ideal for holding snow rugby tournaments once or twice per year."
Snow rugby has actually been going in Georgia for eight years already. 2019 marks its second year being held in Bakuriani, organized with the support of the National Federation of Georgia 'Sport for All.' The event is dedicated to amateurs who, along with skiing, enjoy more active and energetic vacations in the snow.
"The one-day event will commence at noon and continue for approximately four hours," Dugladze told us. "Eight teams will be put into two larger groups. After a semi-final and final, we will hold an awards ceremony to reveal this year's winners."
He notes the main aim of organizing the snow rugby tournament is the promotion and popularization of Georgia and its mountain resorts, particularly Bakuriani, which will contribute to the development of the tourism industry in the region, as well as throughout the country.
Dugladze also shared the organization's future plans with us. "We are currently negotiating with the local government, and aspire to expand the scale of the tournament. We would like to invite the representatives of Turkey, Azerbaijan, Kazakhstan and Dubai to participate and make snow rugby a regional contest," he said.
GEORGIA TODAY also contacted the President of the National Federation of Georgia 'Sport for All', Maia Azarashvili, about the upcoming event.
"We have already been organizing the snow rugby tournament for two years. We do not want to limit ourselves to only certain types of sports, though, and aim to increase the diversity of the 'palette' of popular sports," she told us. "High interest and the inclusion of amateurs and youngsters is of paramount importance for us. By holding such tournaments, we also aspire to develop sport tourism in Georgia. The 2018 Snow Rugby Tournament received very positive feedback. The interest in the event is on the rise among participants, as well among the attending audience. This is good news for us, as it is one of the first steps in establishing snow rugby as one of the most popular types of sport in our country."
By Ketevan Kvaratskheliya
Image: Snow Rugby Tournament, Gudauri, 2017
25 February 2019 17:11