Georgian Rugby Coach: Georgia Keen to Join Pro Rugby Leagues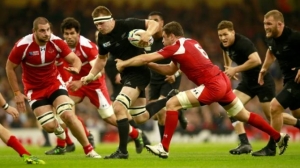 The Georgian rugby team's coach Milton Haig has stated that the Georgian national rugby team is keen to join pro rugby leagues during a training visit to Oxford, England.
The Georgian rugby team joined the English rugby team for training in Oxford on Wednesday and Thursday. English coach Eddie Jones coached players in a rare opportunity for the Georgian team to play with one of the best teams in the world.
Haig welcomed the opportunity to train with England: "This is a big occasion for our guys," he told reporters. "We are testing ourselves against some of the best in the world."
The Georgian rugby team is currently ranked 12th in the world yet is unable to join the Six Nations tournament despite being three places ahead of Italy in the rankings.
Haig hopes that such training sessions will act as a "stepping stone" to international success for the Georgian team. He is keen for Lelos to play in Europe's Prop14 or Super Rugby.
Georgia's next match is against Belgium on March 2 as part of the Rugby Europe Championship.
By Amy Jones
Photo source – Stuff.com
28 February 2019 17:30