Georgian Soldiers Gain 38 Medals in California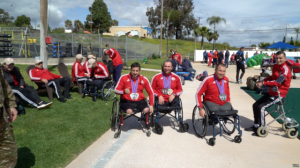 12 wounded soldiers of the Georgian Armed Forces took part in the 2019 championship of the Marine Corps in California and obtained 38 medals.
The competition took place on March 2-9 and around 200 participants from seven countries took part in it.
Georgian soldiers gained 38 medals, including 20 gold, 10 silver and 8 bronze medals. They participated in seven tournaments.
In the basketball final Georgian servicemen defeated the American team and became champions of the year. They also participated in archery, swimming, rowing, wheelchair race, cycling and target shooting.
The list of the awarded Georgian servicemen looks as follows:
Joni Topuria - 5 Gold
Rezo Gorgadze - 3 gold, 2 silver and 3 bronze
Akhmed Saparov - 3 gold, 1 bronze
Aluda Seturidze - 2 gold and 2 bronze
Alika Gitolendia - 1 Gold, 4 Silver, 1 Bronze
Gogita Khozrevanidze - 1 gold, 1 silver
Davit Nareshelashvili - 1 gold, 1 bronze
Grigol Minagorashvili - 1 Gold
Guga Chimakhidze - 1 Gold
Jimsher Chkhenkeli - 1 Gold
Archil Abuladze - 1 Gold
Lasha Surmanidze - 3 Silver
By Thea Morrison
11 March 2019 02:31